Your New Tiled Conservatory Roof
Before discovering the UltraRoof380 tiled conservatory roof, Pam and Gary had lived many years with a conservatory that they couldn't use all year round.

Like other traditional conservatory owners they had the problem of it being unpleasantly hot in the summer and too cold in the winter. So the couple decided to transform their conservatory by replacing the old polycarbonate roof with UltraRoof380.

"When we found Ultraframe and discovered a solid replacement roof was an option for us, we were both delighted," Gary told us. "For both of us, our conservatory has always been the room of choice, but until now we could only use it comfortably for a few months of the year."
What a difference a day makes as the UltraRoof380 tiled conservatory roof installed at Pam and Gary's home was watertight in just one day, leaving plastering and decorating to continue the very next day.

A lightweight tiled roof with slate effect finish and matching guttering, the UltraRoof380 tiled conservatory roof is the perfect choice for homeowners replacing an existing conservatory roof and for home improvers considering an extension.

The vaulted plastered ceiling inside is impressive and the thermal performance of the tiled conservatory roof far outweighs the old style polycarbonate and glazed conservatory roof systems.

It's the perfect choice for year-round use; with options to combine tiles with glazed panels, adding down lights and incorporate integrated speaker systems, the possibilities for homeowners are endless.

"It's given us back our favourite room of the house," said Gary. "The space has a really solid feel to it – when we walk in, it doesn't feel like we're walking into a conservatory, instead it's like going into another room of the house. We chose to add two large solar-reflective glass panels to sit alongside the tiles and we love the way they flood the room with light when the sun shines."
"It's the room we always wanted it to be," added Pam. "Now we can sit and enjoy our garden from the comfort of the conservatory, whatever the weather.

Key features of an UltraRoof380 tiled conservatory roof:
✔ Thermally efficient helping to reduce heating bills and all year round comfort
✔ Creates a beautiful vaulted plastered ceiling inside
✔ Realistic slate finish tiles for a quality finish
✔ Full height glass panels for light were you need it
✔ No Red Tape - JHAI approved roofing system for building approval
✔ Quick to install with little disruption to your home
✔ 10 year manufacturers guarantee
GREAT LOOKING, FAST FITTED, THERMALLY EFFICIENT
Click Here to Download our Luxury Living Spaces Brochure
A REPLACEMENT TILED CONSERVATORY ROOF THAT CAN INCORPORATE FULL RECTANGULAR GLASS PANELS
UltraRoof380 is a cost effective, simple to fit pre- packaged solid roof kit that is perfect for the replacement of tired conservatory roofs.
UltraRoof380 substantially overcomes the twin issues of the conservatory being too hot in summer and too cold in winter. Moreover, it creates a beautiful vaulted plastered ceiling inside and with a stepped detail at the eaves the perfect place for cables and spotlights.
For those of you who still want an element of light through your new solid roof, the clever configurable technology allows the fitment of multiple glass panels – this can be a major consideration to protect light into the adjacent room.
This is what you receive with UltraRoof380:
✔ Solid roof including slate effect tiles sheet
✔ Classic roof in 3 optional colours
✔ All insulation and battens
✔ Fascia board
✔ Black Marley Classic gutter
Rapid install - 2 hours water tight - 6 hours tiled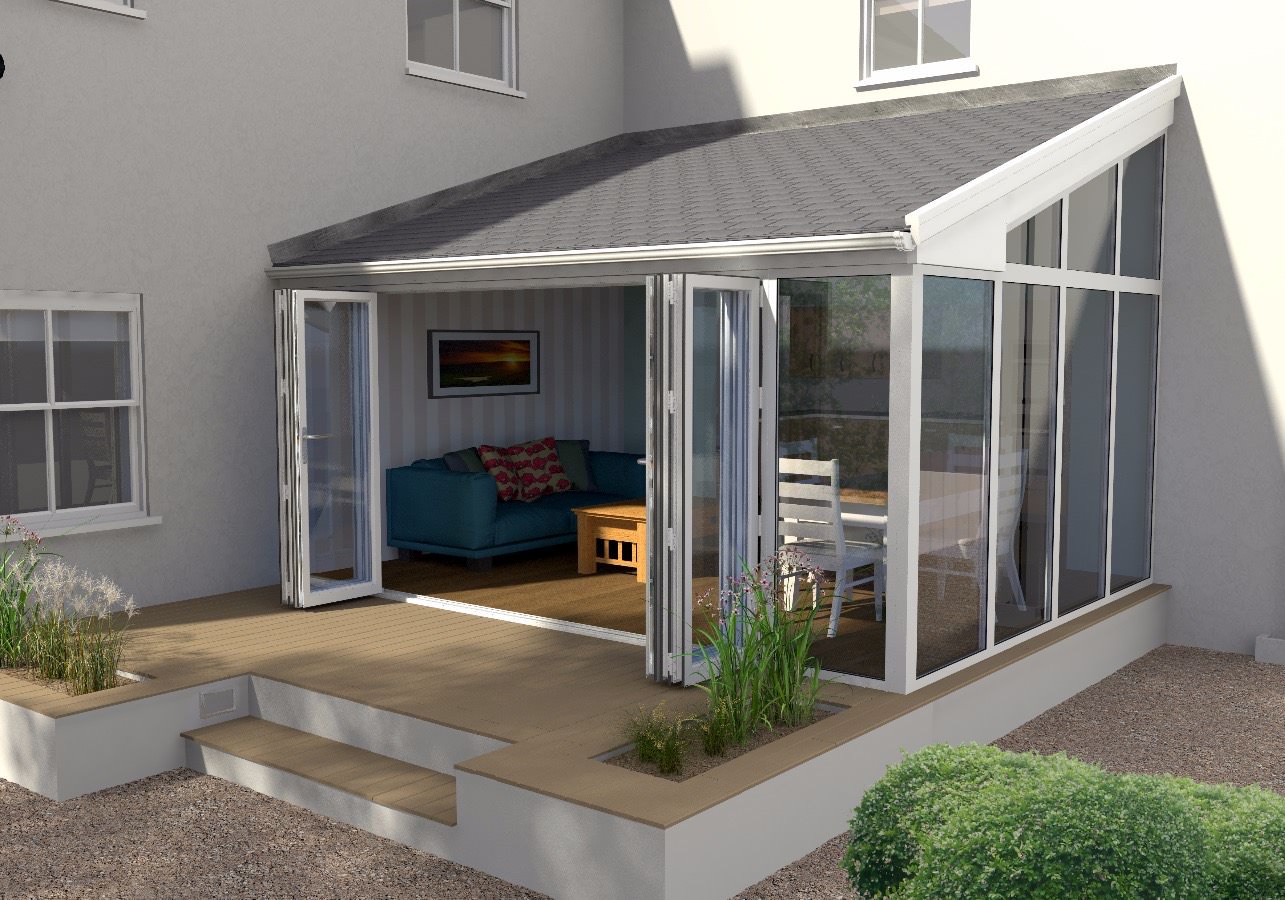 Key Tiled Conservatory Roof Performance Criteria
► The product can be designed with window frames to all elevations - no support posts

► If bi-folding doors are to be used they MUST be bottom supported NOT top hung

► The standard soffit projects approx 40mm beyond the external face of the window frame - box eaves beam is approx 380mm front to back depth

► Pitch range using UltraTile is 12.5° - 41°

► System 'U' values - with the 190mm Unidek Aero panels is 0.16W/m2°C

► Rectangular glass panels can be integrated to maintain light into any adjacent room

► Everything is pre-fabricated in our highly efficient factory to ensure rapid one day fit on site

► On a 4m x 4m Georgian, the system weight is 38kg/M² including plasterboard (12kg/m2 polycarbonate roof and 30kgM² for a glass roof).

1. A patented box eaves beam, filled with EPS beads as used in cavity insulation - that forms the soffit structure - approx 380mm front to back depth.
2. A hidden structural aluminium framework for hips, ridge and starter bars.
3. Mechanically fixed Kingspan Unidek Aero Structural Insulated Roof Panels are attached to the box eaves and structural framework.
It is a packaged solution, off site manufactured for rapid assembly and compliance with relevant Building Regulations. UltraRoof380 is classed as a 'warm roof' and gives a vaulted/loft type ceiling. There are three major elements to this tiled conservatory roof:

Watch How We Install A Replacement Tiled Conservatory Roof
Call us on 01323 488700 or use our contact form to arrange your free quote.